Is the termination of employment due to dishonesty in UAE legal?  Is it mentioned in the labour law?
Continue reading to get the answers from one of the best labour lawyers.
Office of  Younis Mohammed Al Blooshi. Whatsapp: Click here. Location: Sobha Ivory 1 – Al Amal St – Business Bay – Dubai. Phone: 00971589984123.
Termination of employment due to dishonesty in UAE.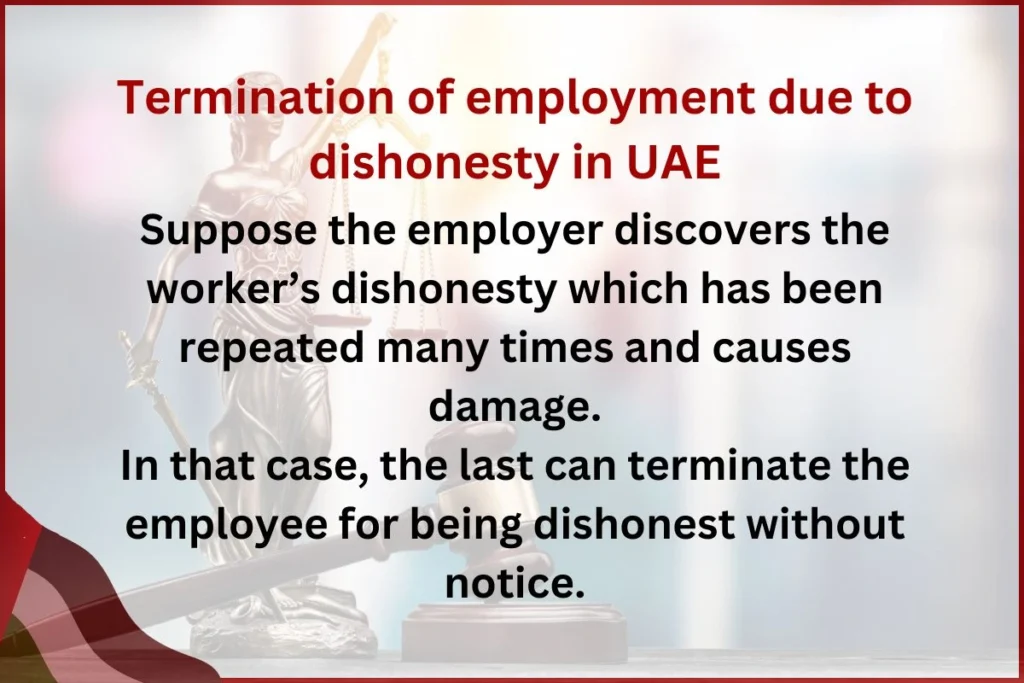 Honesty is one of the worker's obligations, as stipulated in Article 16 of the UAE labour law.
Suppose the employer discovers the worker's dishonesty, which has been repeated many times and causes damage to the workplace or the employer. In that case, the last can terminate the employee for being dishonest without notice.
Provided that the employer first conducts a written investigation of the employee as the law stipulates. It should be noted that the termination notice must be in writing, justified, and duly delivered to the worker.
FAQs about termination due to dishonesty.
Contact the office of Younis Mohammed Al Blooshi via Whatsapp. Click here. Or visit us at our address: Sobha Ivory 1 – Al Amal St – Business Bay – Dubai. You can also call us on phone: 00971589984123.
We recommend you read about the  Employment Termination Labour Law in UAE and learn about the Redundancy Termination of Employment.
A legal consultant specializing in UAE labor law. He regularly publishes articles on the website and writes on various areas of UAE law, with a specific focus on labor law.