Forced resignation UAE Labour Law happens when an employer causes workers to leave or unfairly ends the agreement without justifiable grounds.
Our article will discuss this in detail and answer some of the most common questions.
Office of  Younis Mohammed Al Blooshi. Whatsapp: Click here. Location: Sobha Ivory 1 – Al Amal St – Business Bay – Dubai. Phone: 00971589984123.
Forced resignation UAE labour law.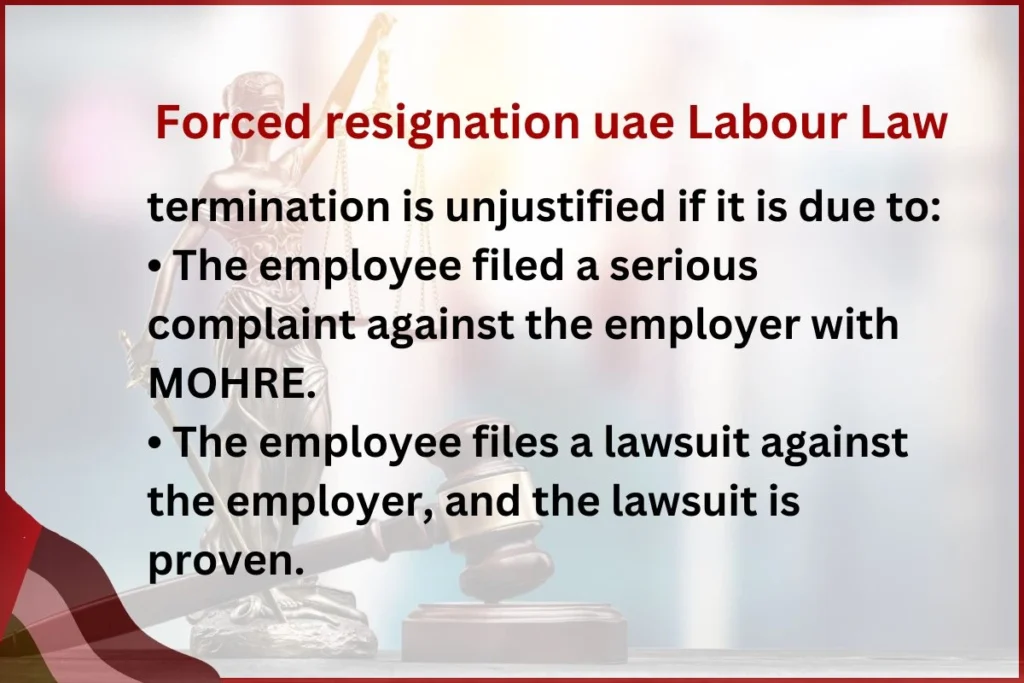 The UAE labour law outlines legitimate reasons for ending employment.
However, according to Article 47 of the new Labor Law, termination of an employee's service by the employer is unjustified if the termination is due to the following:
The employee filed a serious complaint against the employer with the Ministry of Human Resources and Emiratization.
The employee files a lawsuit against the employer, and the lawsuit is proven.
Suppose an employee feels that they have been unfairly terminated.
In that case, they can file a complaint with the Ministry of Human Resources and Emiratization to investigate the reasons for the termination and attempt to reach an amicable settlement between the employee and employer.
If the Ministry fails to resolve the issue amicably, it refers the case to the appropriate court.
Suppose it is found that the employee was terminated unfairly.
In that case, the court may order the employer to pay compensation to the employee based on the nature of the job, the extent of damage to the employee, and their years of service.
The compensation amount cannot exceed the employee's salary for three months, based on their last official wage.
In addition to compensation, the employee retains the right to receive end-of-service and notice compensation and any other entitlements the employer owes.
FAQs about Forced resignation.
Contact the office of Younis Mohammed Al Blooshi via Whatsapp. Click here. Or visit us at our address: Sobha Ivory 1 – Al Amal St – Business Bay – Dubai. You can also call us on phone: 00971589984123.
We recommend you learn how to defend your rights with the best Employment Lawyers in Dubai. Also, read about Wrongful contract termination and New UAE labour law termination of contract.
A legal consultant specializing in UAE labor law. He regularly publishes articles on the website and writes on various areas of UAE law, with a specific focus on labor law.