Either party to an employment contract can terminate it with a justifiable reason, and there are different ways in which a work contract can be terminated.
In this article, we will explain verbal termination of employment in UAE and answer the most frequently asked questions.
Office of Younis Mohammed Al Blooshi. Whatsapp: Click here. Location: Sobha Ivory 1 – Al Amal St – Business Bay – Dubai. Phone: 00971589984123.
Verbal termination of employment in UAE.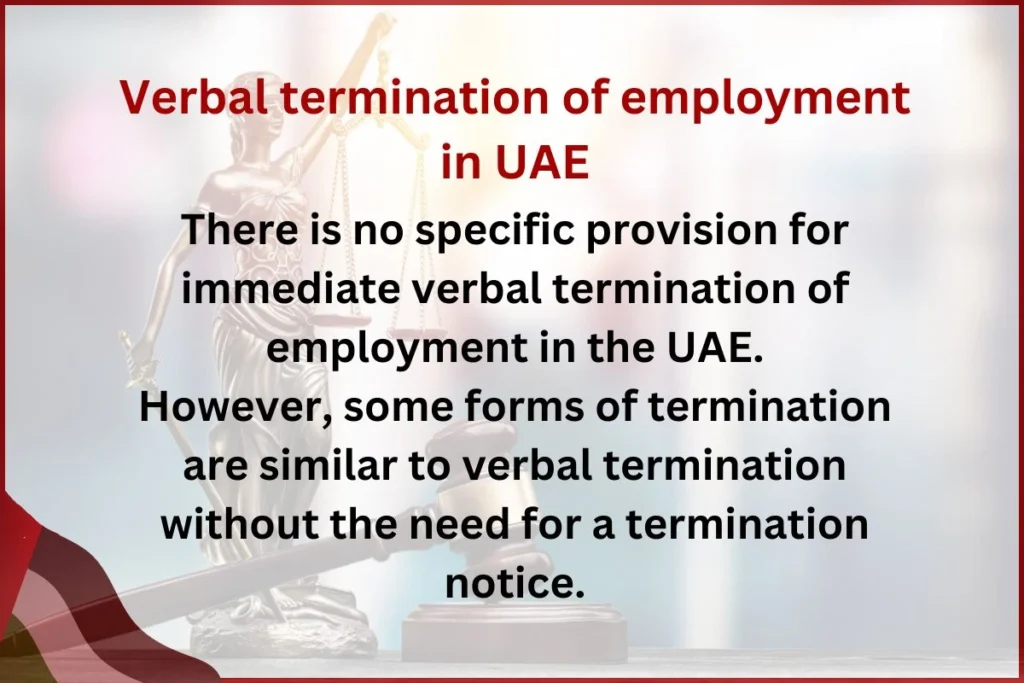 According to Article 42 of Federal Decree No. (33) of 2021 concerning the regulation of labour relations, known as the UAE Labor Law, the contract comes to an end in specified situations.
However,  there is no specific provision for immediate verbal termination of employment in the UAE.
Still, some forms of termination are similar to verbal termination without the need for a termination notice.
Article 44 of the UAE Federal Labour Law states that an employer may terminate an employee's contract without notice in some instances, which are as follows:
If the employee assumes a false personality or nationality or presents forged certificates or documents.
If the employee commits an error resulting in a significant material loss to the employer or intentionally damages the employer's property. Provided that the Ministry of Human Resources and Emiratisation is informed within seven days of receiving notification of the incident.
If the employee violates the internal regulations of the establishment regarding work safety and workers, provided that these regulations are written and posted in a visible place and that the employee is aware of them.
If the employee fails to perform his/her basic duties according to the employment contract and continues to breach them despite a written investigation and two warnings of termination of employment for repeated breaches.
If the employee discloses secrets of the establishment where he/she works, especially concerning industrial or intellectual property, or causes losses to the employer, wastes an opportunity or brings personal benefit to the employee.
If the employee is convicted by the competent courts of a grave crime of honour, trust or public morals, this is also stated in the termination law in UAE 2022.
If the employee is found to be under the influence of alcohol or drugs during working hours or committed an act that violates public morals at the workplace.
If the employee assaults the employer, the responsible manager, or one of his/her supervisors or colleagues, whether orally or physically, or commits any form of aggression punishable by law.
If the employee absences himself/herself without reasonable excuse or causes accepted by the employer for more than 20 intermittent days or during one year more than seven continuous days.
Note.
Terminating an employee without notice requires conducting a written investigation with him/her. The termination decision must be made in writing and delivered to the employee by the employer or a representative. This applies to the cases mentioned above.
FAQs about verbal termination of employment in UAE.
In conclusion, we hope that we have provided all the information that matters to you.
Contact the office of Younis Mohammed Al Blooshi via Whatsapp. Click here. Or visit us at our address: Sobha Ivory 1 – Al Amal St – Business Bay – Dubai. You can also call us on phone: 00971589984123.
We recommend you read about Negotiating wrongful termination settlement in UAE Dubai and suing Company Wrongful Termination. Also, read about the Best 5 wrongful termination lawyers in UAE.
A legal consultant specializing in UAE labor law. He regularly publishes articles on the website and writes on various areas of UAE law, with a specific focus on labor law.